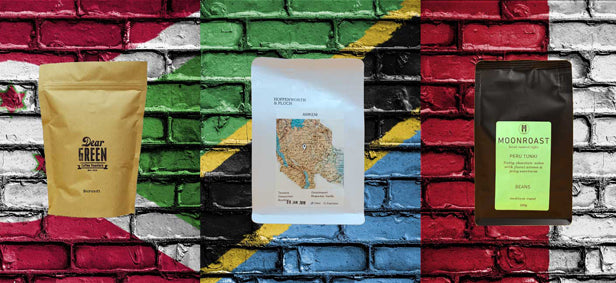 Dear all,
Hope you're well and enjoying this month's subscription. We wanted to keep you updated with all the latest news from Dog and Hat, including some important additions to our subscription package options.
Subscription Packages
Based on feedback this month, we've now broadened the subscription packages we offer to include a 3x Filter sub as well as 2x and 3x Espresso subs. Please would you take a minute to review all the currently available subscription options below, and if you'd like to swap to a different subscription option please just drop us an email.
ASSORTED Subscription - Including coffee roasted for Espresso, Omni and Filter
FILTER Subscription – Including coffee that has been roasted for Omni and Filter
ESPRESSO Subscription - Including coffee that has been roasted for Omni and Espresso
We'd like to take a second to call out the Omni-Roast references above, as it is important to note that this is the only roast type that a large number of roasters currently use (especially in the UK).
So, what is Omni Roasted Coffee we hear you ask? – Well, that's a good question – essentially it is a roast profile that is suitable for any brew method (espresso or filter). To read more about this type of roast profile, The Perfect Daily Grind has a good article here https://www.perfectdailygrind.com/2016/08/omni-roast-one-roast-rule/
Some examples of our roasters that offer Omni-Roast and their Omni-Roast coffees that we have shipped in the past are:
Amber Tanzania
Dear Green Guatemala
Django Fuyan & Popyan
Horsham Pioneer
Muttley & Jack Colombia
March Subscription
Details about the coffee selection for the March subscriptions can be found here - https://dogandhat.co.uk/collections/march-subscription
We've had to make a couple of changes since the initial launch to allow us to offer the new Espresso subs as well as to support our Burundi-Off "#brewburundi". We're now including the Dear Green Mpanga Burundi in every sub type to go head-to-head against the free 100g gift bag of Girl in the Café Icocoge Burundi (roasted by The Roastery Department) that we're including in every sub.
If anyone on the Espresso 2x sub would prefer the Hoppenworth & Ploch Natural Espresso Blend instead of the Dear Green Burundi or Moonroast Peru, please let us know - we appreciate that until the subscriptions split into the new Espresso variation everyone was receiving the Hoppenworth and Ploch Tanzania Filter Roast, and we want to ensure that every receives coffee from the roasters that they expect.
Purchase Extra Bags in the Members area
You can always log in and view your subscription online to make sure you are on the right subscription offering for you.
Don't forget that you can now also purchase extra bags of the coffee we're including in the March subscription from the members area of the website. This month that selection includes an exciting Ethiopian natural decaf option from Moonroast along with the chance to pick up a Hoppenworth and Ploch Ethiopia Washed Nano Chala (this coffee isn't in the main subscription coffee list but is an excellent coffee in its own right, and Hoppenworth and Ploch has kindly agreed for us to include it for sale this month as well).
If anyone wants to discuss their options, drop me a mail with your number and I will give you a call - su@dogandhat.co.uk
Su