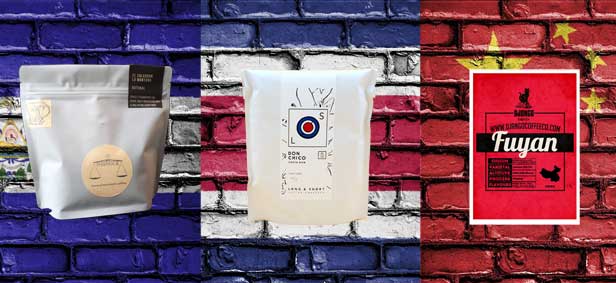 February Subscription Coffee
We've selected the coffee for February, and we think it's got the most variety of any month we've put together so far… and it should certainly lead to some healthy conversation throughout the month :-)
To start with, we've finally managed to get Long and Short (a new roaster from East London) into the subscriptions with their Honey-processed Costa Rica 'Don Chico'.  We were hoping to include them before Christmas with their amazing Panama (not a Geisha) coffee, but it just didn't work out - so we are very excited to get such a great all-rounder in this time around.  We tested it as a filter three ways (French press, V60 and Aeropress) and it was great… it then made its way into the espresso machine and it only left when it completely ran out.  This dark cherry & hazelnut coffee will be making its way into the assorted boxes.
For our filter subscribers we're bringing in something a bit special this month from our friends at Pharmacie down in Hove.  We've featured Pharmacie in the subscriptions previously with their Honduras espresso offering, and also a small bonus sample bag of natural-processed Costa Rican to celebrate National Coffee Day.  The bonus bag went down so well with everyone that we've decided to include their latest natural-processed coffee in this month's subs – a micro-lot from El Salvador with juicy notes of apricot and strawberries & cream.
For all our subscribers this month we have a real rarity.  We at Dog & Hat pride ourselves on being pretty well-travelled, coffee origin-wise, but there are still some coffee-producing countries that we haven't sampled… and here's one of them – China!!!  China is a young coffee growing nation but now they've put their mind to it (as with so many things they do) they've exploded into the top 15 coffee producers in the world, albeit with a tendency to produce commodity-grade coffee.  However, times are changing and this Fuyan coffee is one of the early runners into the speciality coffee market…we cannot wait to see how this omni-roasted, complex coffee from Django Coffee Co. that's full of flavours of golden raisin, plum, toffee, pear and grape goes down with you all.
Don't forget, if you want to get all three of these coffees you can always swap yourselves onto the 3x subscription by emailing us at hello@dogandhat.co.uk.
See the full coffee listing here